Why do we need a wheelchair accessible crib?
Most of us wouldn't know that this need even exists but the sad truth is, without the PediaLift's wheelchair accessible crib, parents who rely on wheelchairs are unable to independently manage their children without putting both their baby and themselves in danger.
For most parents in wheelchairs, transferring their baby to and from their crib is nearly impossible and at best, it is a risky endeavor.
It's a matter of stability.
The reason is simple; most parents using wheelchairs can't use their legs to steady themselves. In order to keep their torsos stabilized, they need to either have one hand grasping something rigid, or they have to be securely planted in their seat or seat back. What this means is they become extremely unstable when both of their hands are occupied and they are holding something off-center, that compromises their balance. This is exactly the case when attempting to transfer a baby and faced with having to lean forward and reach over a crib sidewall.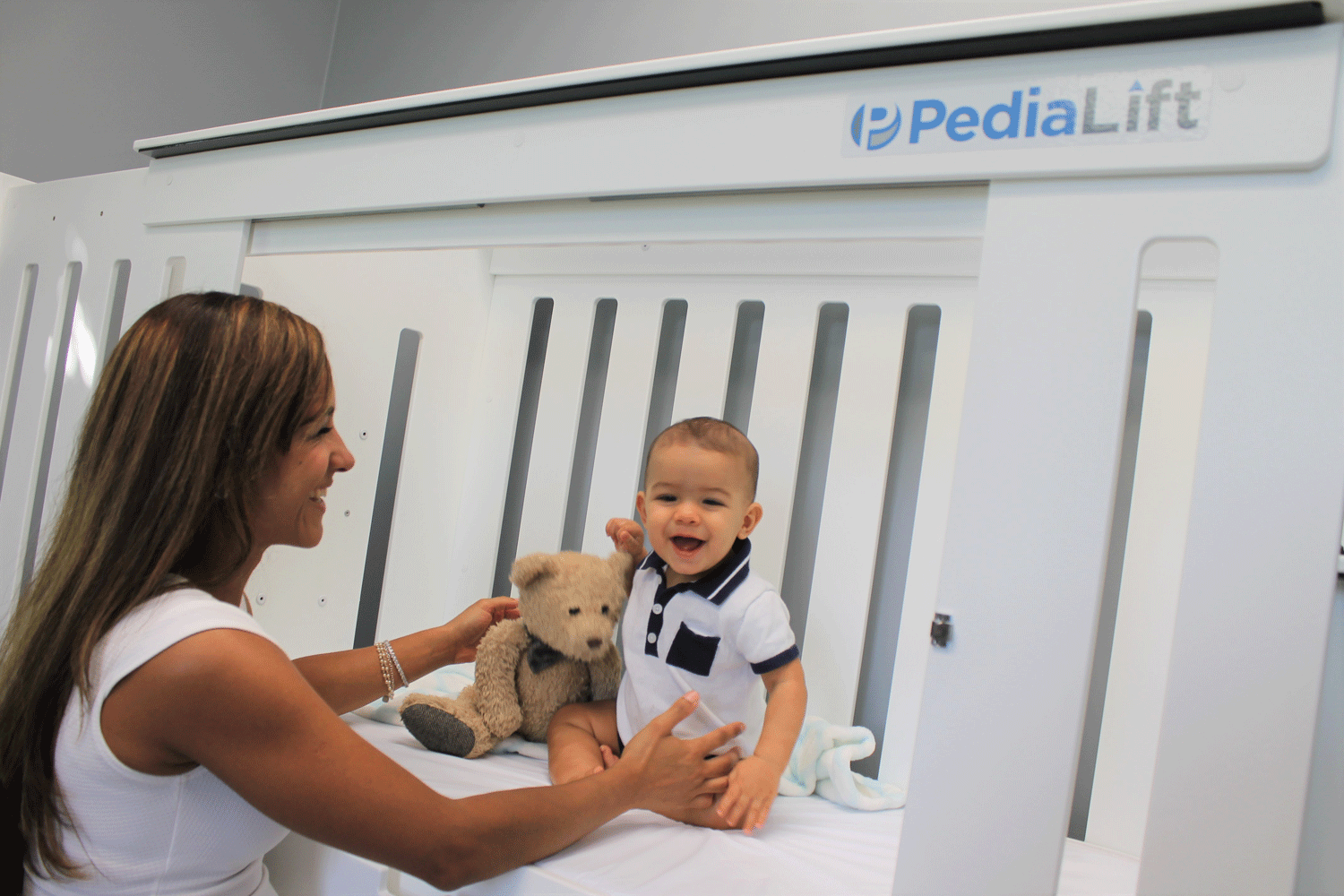 Lifting a baby over a crib sidewall is risky business for wheelchair users.
As if the stability challenges weren't enough, the task of interacting with a standard crib is further complicated by the low seating position of the wheelchair user. In order to lower a baby down into a crib, you first have to be higher than the top of the side wall. Parents seated in wheelchairs are simply too low to reach over a crib wall.
This is a solution to a dangerous accessibility problem.
The PediaLift Crib™ addresses all of the issues that a wheelchair using parent is faced with and it does so with style and functionality. In the lowered position, the crib is designed to look a household crib but with the touch of a button, the PediaLift Crib™ transforms into a Hospital-Grade lifting bed loaded with accessibility features.
Putting your baby in a crib shouldn't be a dangerous proposition and now with the PediaLift Crib™ it doesn't have to be. Our engineers have worked hard to develop a safer solution to this access problem and now that solution is available to the world.